With unique hardware security features, a large touchscreen, and hot-swappable SafeCard wallets, the GridPlus Lattice1 is a programmable hardware wallet that makes using crypto enjoyable while securing your assets against threats of any magnitude.
Use Every Chain
Securely connect to applications on any chain supported by MetaMask. Seamlessly switch between networks and use as many of your wallet addresses as you need to segment your assets for easier use.
Bitcoin also supported.

Learn More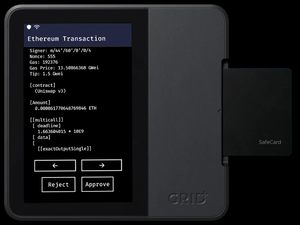 Read Every Message
With the Lattice1's five-inch touchscreen display, you can read exactly what you're signing. Are you tired of waiting for your transaction data to slowly inch across a tiny display? Stop naively signing messages you don't have time to read. Now you can see your transaction data in its entirety on a single screen and sign it with the tap of a button.
Easily add smart contract data and address tags and for a more readable display!
Colder Storage
Seed phrases are only as safe as where you keep them, so why are you storing them in plain text on paper? With SafeCards, your seed is backed up on a portable, PIN-protected HSM. Create and easily use as many accounts as you want by getting more SafeCards. Store your crypto offline or bring your SafeCard on the go and use it as your main account. With SafeCards, any Lattice1 can be your terminal.

Buy SafeCards
Full Stack Security + Usability
With unique hardware components designed for unparalleled security, the Lattice1 protects your crypto assets like a digital fortress. Your assets are safe on a dedicated Hardware Security Module (HSM) caged inside a tamper-resistant wire security mesh. All important operations - from building transactions to drawing screens - are performed on the Lattice's Secure Computing Environment, also housed by the mesh. With tamper detection built in, you can be confident no unwanted intruders have accessed your device.
And who says you can't have it all? With an intuitive touch screen, wireless connectivity, and offline backups on SafeCards, the Lattice1 also offers a premium user experience for the crypto connoisseur.
Learn More